Gulmarg was right on top of our bucket list in this already eventful Kashmir trip. We left Srinagar at around 8:30 in the morning as we had booked our Gondola ride online for the 11:00 slot. We had booked both phases and were really looking forward to it. Considering the harsh winter India had faced we expected lots of snow.
Gondola Ride
We reached Gulmarg quite early as it was a weekday so we did not get much traffic along the way. Our driver advised us to go to the cable car zone walking and not to take any sled or ATV ride. We had a good 20 minutes walk to reach the main entry point.
Since we reached around 10:30 and our slot was at 11:00, the gatekeeper was not allowing us. But thanks to our luck, he somehow allowed us to take the cable car before our scheduled time. There was not much crowd in line so we were inside the cable car within 15 minutes. Going up to Kungdoor would take around 12-15 minutes and the height was around 10500 feet. Along the way, we saw the shepherd's houses which were submerged in snow. The shooting of film Bajrangi Bhaijan starring Salman Khan was shot here. During winters the shepherds go back down to Gulmarg and in summers they come back here with the sheep.
However, our excitement turned into a bit of a disappointment upon learning that Phase 2 to Apharwat was closed for the last four days due to bad weather. We then decided to spend more time on Phase 1. While on the cable car, we could see light drizzle of snowflakes which were actually coming from the Apharwat peak due to the gusty winds.
Kungdoor
After reaching Kungdoor, we headed straight to Snowmobile. It was quite cold and the weather was overcast. I decided to do the full ride as I would also get to ride.  Trust me, it is totally worth it!! Riding with snow all around you, the wind blowing on your face along with the snow is a thrill by itself.
As I rode the snowmobile, I could see Apharwat mountain right in front of me. It felt that the mountain was calling out to me, as a challenge to reach the summit. Hopefully, soon I will one day.  Various thoughts like this crossed my mind during that ride as the majestic size of the summit came closer. One will get a sense of wonder and admiration for nature's creation after visiting such places.
Reaching the top of the point, I could see the Apharwat peak more closely. A few days back, there had been an Avalanche in the same area in which unfortunately two foreigners had lost their lives. Maybe, that was another reason authorities did not want to take any chances and had closed the Gondola ride 2nd phase.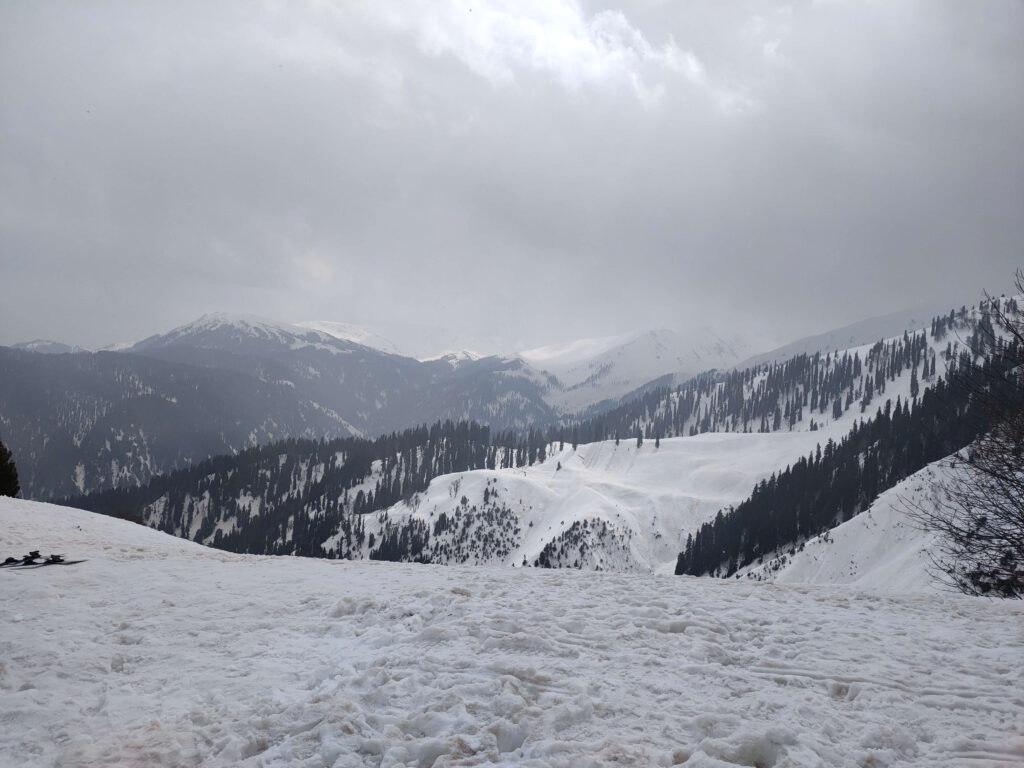 After spending some time at the top, I came down and joined my friend who had already located the long lineup of eatery joints. We decided on a place and decided to fill our stomachs since we had skipped breakfast in the excitement.
The weather started deteriorating and it became quite dark. We could hear thunder and lightning as well and in no time a Halestorm started coupled with a strong breeze. It didn't stop there! After a while, there was a heavy snowfall followed by Jet Streams! The restaurant where we were sitting, had a tarpaulin cover in the outer sitting area and the locals literally held on to them strongly dragging them down so that it doesn't fly away.
Even though I had witnessed snow in Gangtok, I had never experienced snowfall in my life, and to experience it with a snowstorm was completely overwhelming.  This was a surreal experience that left a lasting impression on my mind.
One could see skiers going to the 2nd Phase by the open cable cars which were only allowed for them. We could just see them in envy! Seeing the skiers and snowboards coming down effortlessly made us think how enjoyable and thrilling it must be.
Due to the heavy snowfall, the snow depth had increased and luckily for our gumboots, we managed to walk through the snow. The temperatures too dropped below -5 degrees to -7 or -8 degrees for sure and it must have been around -10 to -12 degrees at the Apharwat summit. There was a high possibility that we would have to trek down to Gulmarg if the Cable Cars would be stopped due to the fierce winds.
Luckily for us, the Gondola Ride was kept open to head back down. Although, on our way back, the cable car did stop for a brief moment in between due to the high-velocity winds. But we were unfazed. The thrill of our experience at Gulmarg overshadowed this mini hiccup during our return journey.
The type of weather we experienced in Gulmarg was beautiful and exciting, but it can also be a frightening and dangerous experience for many. The snowflakes were coming down fast and hard, the wind was blowing fiercely making it difficult at times to breathe when facing the wind. This experience made us realize the power of nature and how insignificant we are in front of it. The freezing cold breeze made us realize the hardships our soldiers must be facing while protecting our borders.
Frozen Waterfall
While we were coming back from Gulmarg, we went to Drung Valley and saw the famous Frozen Waterfall. Due to rainfall that day, the waterfall had again activated itself with a good force of water, but still, one section of the waterfall was frozen luckily which w could admire.
We also bought some Kashmiri embroidery as the trip would have been incomplete without it. And, of course, the renowned Saffron that Kashmir is famous for as well.
One must be well prepared while coming to such locations as the weather can change very quickly. It is rightly said, there is no such thing as good weather or bad weather. There is just the weather and your attitude towards it.
For me, Gulmarg was an unforgettable experience. I had never experienced snowfall in my life, and to experience it with a snowstorm was completely overwhelming.  This was a surreal experience that left a lasting impression on my mind.