The 7th Annual Tata Literature Festival happened this Weekend. It was my first and wow, it was wow. When I look back on it now, I just do not know where to begin. 4 days, morning to evening, debates, awards, readings, book launches, panel discussions, straight talks, performances, workshops and all the accompanied paraphernalia. Tata Literature Live 2016 was massive, a festival in the truest sense.
DAY 01 | 17 NOV | THURSDAY
Day 1 began with a grand opening ceremony in the main Tata Theatre. It was the launch of Shashi Tharoor's book – An Era of Darkness: The British Empire in India. The session was fun, engaging and quite surprising as the discussion moved from humorous political jabs between the author and Amitav Gosh into the intriguing insights regarding the British Raj in India and it's aftereffects that continue to play unchecked in our country's the legal system even after independence.
After this I headed off to the Little Theatre where I attended a lovely poetry reading session by Adil Jussawala, Eleanor Hooker, Keki Daruwalla and Zingonia Zingone which was followed by a session with a desi tadka – a discussion about desi cooking on foreign shores which was headed by Antoine Lewis along with Colleen Taylor Sen and Vir Sanghvi.
From tracing the roots of several Indian dishes to understanding the invention of recipes in the European Kingdoms and moving on to the contemporary experience of food as it turns from merely food to a complete experience through food science like Molecular Gastronomy, the discussion took us on a guided tour of the world through the eyes of food experts.
I developed a taste for theater that won't leave me anytime soon.
And finally, the highlight of the day was – A Tribute to Roald Dahl. A magnificent performance by NCPA's young and beautiful actors that moved me to go backstage just to compliment them, and grab a selfie with those stars while I was there!
There were several sessions across the four days which were theatre performances – A Tribute to Roald Dahl, Going Viral, Poetic License, Polyphony, White Rabbit Red Rabbit, Riding Madly off in all Directions.
And all of these became my priority immediately after seeing 'A Tribute to Roald Dahl'. So I decided and attended all of these and developed a taste for theatre that I am sure won't leave me anytime soon. Maybe never.
DAY 02 | 18 NOV | FRIDAY
My second day began with the brilliantly engrossing talk by Devdutt Pattanaik – Olympus: An Indian retelling of Greek myths. The author guided the entire audience like a teacher guides his students through the various concepts and explanations of Greek mythology and how different it is from Indian mythology, the similarities between Greek and Indian gods, the distinct philosophies of Greeks and Indians and made it all sound so simple and interesting, that we wished it would go on all day long.
This was followed by a celebrity session Saluting Gulzar, which was led by Pavan Varma, a former Indian Foreign Service officer and author and the Poet Laureate Gulzar himself who enchanted us all with some of his best poems. Some genuine concerns regarding language and our culture were raised throughout the discussion like – the death of many inherited languages as a result no activity in that language, the Indian population turning into literary orphans by losing touch with local languages as it turn towards the global English language and barely manages to have a grip on that too.
Later that day Sam Cutler, tour manager for The Rolling Stones and Grateful Dead took us on a ride on the other side of the music industry with Hrishikesh Kannan. They touched upon the Rolling Stones' controversial Altamont Concert disaster, talked at length about how challenging the logistics of moving a major rock band is, shed light on how the music industry evolved with technology through series of small disasters which led to much of the simpler and complex technological inventions that we see across auditoriums and halls today and revealed how tedious and mechanical of a process music recording really is.
This was followed by the first play of the day – Going Viral, which literally went viral among the audience in the Sunken Garden. Written and performed by Daniel Bye, it was an intelligently crafted interactive act that almost had us lose the track at times, but as it ended after switching between countless different parallel narratives, it left us with a sense of amazement.
An awe-inspiring magic show by two young magicians and their mentor
Friday ended with an awe-inspiring magic show Mada's Marvels in the Tata Theatre. It was by Adam Mada and his students two young 'super slick finger flicking' magicians Ash and Lucas of CARDISTRY. This was an energetic performance which captivated the entire audience from the start to the end with a finale of a trick which we were allowed to film (see below).
DAY 03 | 19 NOV | SATURDAY
Then came the weekend during which the sessions were split between Prithvi Theatre and NCPA. I was at NCPA for all four days of the Tata Literature Live Festival.
My Saturday began with the critical discussion on terrorism. The idea here was to find out if terrorism can be contained by peaceful means. Political Philosopher John Gray and author Srinath Raghavan were a part of the panel which was chaired by Maroof Raza, a former Indian Army officer.
one man's freedom fighter becomes another man's terrorist
The discussion revolved around – the challenges we face when tackling terrorism, how its diverse nature makes it difficult to find the root cause, why a single blueprint cannot work in all parts of the world, the natural consequence of national boundaries which make one man's freedom fighter another man's terrorist, how a conflict of interest between nations prevents one from helping another in their confrontations with terrorism, addressing the core of terrorism by bringing in the political and socioeconomic part into the situation and not just using a single sided military approach.
Organizing Principles was a eclectic conversation with Narendra Jadhav, Noorjehan Safia Niyaz, Venkat Dhulipala and Ayaz Memon (in place of Dileep Padgaonkar who couldn't make it). The discussion revolved around the Dalit Muslim Alliance in India, how it came into being and how Dr. Babasaheb Ambedkar was instrumental in this context. There were a passionate emphasis on how Ambedkar was champion of underdogs and a national leader who took everyone along.
Again, it was time for what I was eager to attend a play – Poetic License. A stirring play about a creative writing professor on the brink of walking out on her life. Erika Batdorf the creator and actor, commanded the stage by addressing the audience as her students whose assignment submissions she is critiquing by doling out some surprisingly sagely advice on writing. All the while she continues to struggle beneath with her own life situation, she shares the story of the affliction her sister faces and the affliction her daughter inflicts upon herself daily. In the end through each character we were confronted with some powerful questions about making a change in our lives and she successfully managed to remind us our free will, urging us to seek out our hearts desire, and gave us some lovely handmade cookies to choose from while doing so.
the symbiotic link between art and literature and their interchangeable roles
Framed by words was a discussion lead by Ranjit Hoskote, along with Panelists Rashmi Poddar, Tasneem Mehta and Tishani Doshi. Together through each a poet, a museum curator and an artist, perspective they established the symbiotic link between art and literature and how each have played interchangeable roles over the years since their inception when images were relied upon as text communication through their evolution as language developed paving the way to literature.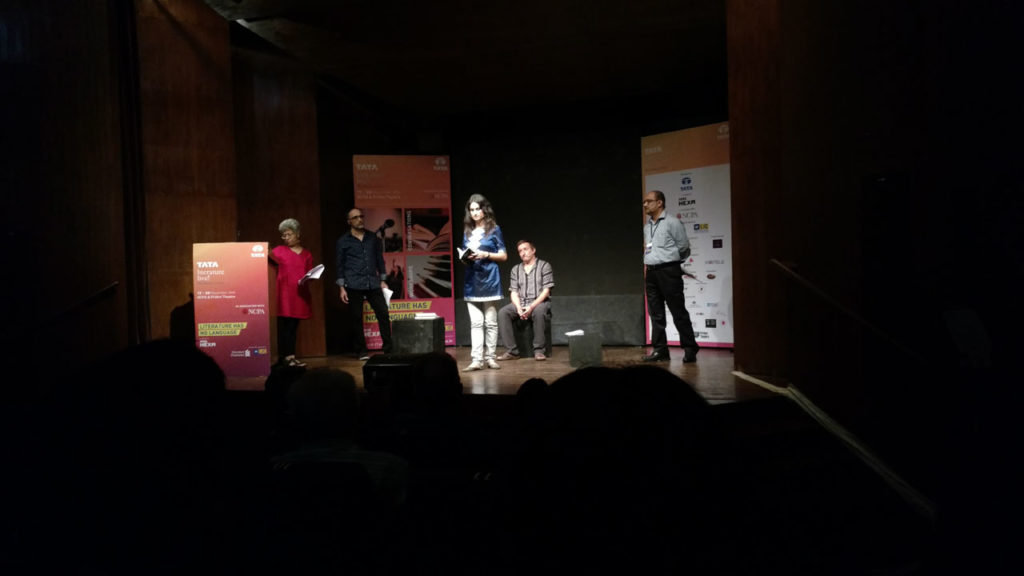 Polyphony was a unique multilingual poetry performance by Adrin Grima, Brane Mozetic, Hemant Divate, Sampurna Chattarji, Yolanda Caslano. Each poet spoke in their own language from Marathi to English to Slovene to Maltese and the fifth. They overlapped each others reading, flowed from one poem to another, though it became a little confusing for one not well versed in all those language, it was a rather eccentric performance.
The Ballads of Bant Singh was a performance cum interview session which brought to light the heroic story behind the Sikh Labourer's fight against power and his emergence as an activist. At the start of the session Bant Singh received the kindhearted donation of prosthetic limbs and rehabilitation from Mr and Mrs Jindal who were moved after hearing his heartbreaking tale. The session was then led by the author Nirupama Dutt who was also accompanied by Bant Singh's elder daughter Baljit. Both, father and daughter sang, shared their inspiring stories and gave a performance that drew people who gathered all around the packed Sunken Garden.
The day ended with a trip back in time, to the 30s era of gramophone and women singers. An exhibition and a live performance that did not just recreate the ambience of the gramaphone but took us back in time to experience it first hand by the energetic mellifluous voice of Vidya Shah, the artistic mastery of tabla player Amit Choubey and harmonium player Sanket Modi.
DAY 04 | 20 NOV | SUNDAY
The Final day began with a deep look into the field of investigative journalism. Talking about stories that never saw the light of day was the chairperson columnist Mihir Sharma who was joined by the panelists – investigative journalist Josy Joseph of The Hindu and Sidharth Bhatia Founding Editor of The Wire.
weak laws enable our system to insulate the powerful
Key points that were touched upon were – how journalist over time develop an establishment mindset which prevents them from inquiring into anything related to their field of work, how the corporates and governments use power to suppress stories and how weak laws enable our system to insulate the powerful decision takers, the threat of concentration of media ownership, how our unwillingness to pay for news leads to us getting news which is paid for by someone else, how social media helps in getting stories out.
The greatness of Shakespeare was a debate led by journalist author Soumya Bhattacharya with author columnist Suhel Seth and theatre personality Alyque Padamsee and Argentinean novelist Carlos Gamerro and playwright Simon Choa-Johnston. The Indian side of the panel fought for the motion stating how Shakespeare has made the English language rich, how he infuses dialogues with music through his words, the wisdom his words possess, and how his language appeals to our hearts and emotions. The other side put forth valid points like – today's youth find Shakespeare's language remote and inaccessible, as the language dies the writer who heavily relies on it dies with it, his superb grasp of dramaturgy, stage directions is what defines Shakespeare. The votes shifted dramatically to the latter side in the end, which was a surprising result.
Later in the afternoon, Theatre Group's Sultan Padamsee Awards, opened the stage to 3 fantastic plays. Out of the 4 shortlisted plays from among 64 entries received from India and across the world, we got to see 3 plays – Shikhandi: A Story of the In-betweens by Faezeh Jalali, A Farming Story by Vineet Bhalla and Parvati's Dark Children by Ramneek Singh. None of these plays have been produced, this was the first time they were performed on stage, so it was a premier of sorts, one definitely worth attending.
This was followed by a discussion on a contemporary topic – liberalism. Mihir Sharma chaired this one too along with the panel – British author Martin Amis, feminist writer professor Nivedita Menon, NDTV journalist Sreenivasan Jain. The discussion gave way to some serious thoughts like – choosing between a candidate that lies a little and one whose campaign is entirely based on lies, and how unbridled capitalism does not represent growth as it is simply not sustainable.
White Rabbit Red Rabbit a play Nassim Soleimanpour was performed by Anurag Kashyap later that evening. Or to be more precise it was performed by all of us. This was the World Premiere of the Hindi version and it was such an ingenious play that in the end we were left reflecting on what had just transpired. The actor himself got to open the script for the first time on stage, and we, the unsuspecting audience, were participants throughout the play. One could not even predict where it was headed, so wonder was our constant companion throughout the 70 minutes.
The actor opens the Play's script for the first time on stage and audience participates
This was followed by Tata Literature Live! Awards which saw winners like – Harpercollins Publishers India for publisher of the year, Grassroots Innovation for business book of the year, Swimming Among the Stars for first book of the year in fiction, The Ivory Throne for first book of the year in nonfiction, Selection Day for fiction book of the year, The Gene for nonfiction book of the year and Amitava Gosh for the Lifetime Achievement Award.
In the end, the festival ended with a phenomenal performance of Canadian humourist Stephen Leacock's works by Naseeruddin Shah and his family. This was a 2 hour long performance that took place in the Tata Theatre. And every minute of it had us hooked, laughing, clapping, wondering, and wanting more.
Those were the long yet fast, tiring yet exciting 4 whole days filled with discoveries and more. We made new acquaintances, had various encounters with celebrities (some unsuspecting), found new passions (like the love for theatre), captured some memorable photos, and left each day full with joy and a little sorrow for not being able to attend the many fantastic workshops and other sessions that took place in parallel with others.
More Photos from the event
Note
I attended the Tata Literature Live The Mumbai LitFest as part of Team Blogchatter who were the official Blogging Partners for the event. The other members of the team were Rohan Kachalia, Kala Ravi, and Jaibala Rao.
-end-
---