It was around the end of 2015, during November – December when my journey with Blog Chatter began. At that time I was already occupied with our home-based freelancers gig – DigitalKrafts – which a bunch of us friends run together. And at the same time, I, being the content writer of the team, was also trying to give more time to our blog – this blog – which few of us had started together.
It was in the month of May in 2013 when this blog went live. We were thoroughly excited about it, and I was pumped since I had finally gotten a place to share my thoughts and a platform to work on my writing. But with the experience I had at the time, I wasn't entirely prepared to take this blog to the level I had imagined.
Several blogging workshops, events, webinars, discussions, classes later I got a better idea of what is needed – the strategies and tactics, how much time and attention you have to give in order make your blog successful. After learning from various experienced bloggers and experts from other related industries I began having a personal realization that I was far behind in terms of execution even though my aspirations for this blog were big.
During this phase of on-and-off blogging, I stumbled across Blog Chatter on Twitter.
Read about that story here and also get a peek into Blog Chatter classes –
Blogchatter Classes with Richa Singh
I read about their blog buddy program and immediately felt the need to sign up for it. I did and found a wonderful family of supportive bloggers. It did give a nice spurt to my blogging journey, but that was momentary. Of course, the program is still on, and all the bloggers are still connected and blogging together, but I was again swamped with other work and so couldn't even take out one day of the week and dedicate few hours for blogging.
And yes the time spent with team Mavericks was (and continues to be) fun, doing all the activities together, connecting with each other, getting to know your blogging buddies, learning new things. But for me as a blogger, I still wasn't involved in blogging the way I wished to be – full fledged, all in.
I continued to prioritize other work and that moved blogging at the bottom of my To-Do list. But with Blog Chatter and my Blog Buddy team #Mavericks (a team of 7 bloggers formed as part of the blogbuddy campaign) my journey still continues and even though otherwise, I don't blog, I am always excited to blogging together with them, so I never miss out on any Blog Chatter activities. I even summoned up some courage and did a video post for one of Blog Chatter's campaign on Instagram -> my first video blog post.
So now it is…
It's a half year round up post that is being written and submitted by hundreds of bloggers of the Blog Chatter community. The post can be about – a review of the year, the future, your thoughts, your blogging journey thus far or anything else you would like to share as a six months blog update.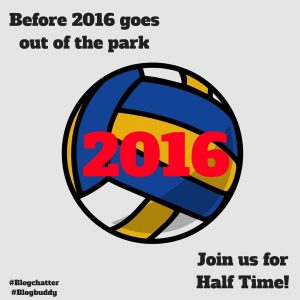 I personally find it a crucial post as it can be a decisive evaluation at the right time of the year to see where you have been and where you wish to go from this point on.
So, another great idea conceived by Blog Chatter this year.
My post is going to be a reflection about my role in the digital space and blogosphere, where I see myself today, how do I see myself growing, where do I see my blog in the future.
#HalfYear Review #Mavericks2016
At the start of the year, I had committed to myself and Blog Chatter that I would be one writing one blog post per day, but, the way things are, I have managed to write and publish only 5 blog posts this year, up till today. Also, seeing how other things panned out – Cycle2Work project, the Vegan movement, our web services startup and coming to terms with how a large portion of my time will be dedicated to these things I think being realistic and having a clear doable goal in mind would be more effective. So I will be writing at least one blog post per week from now on.
As a content manager at DigitalKrafts and as a freelancer, I will continue to expand my skills in the content department. This won't just be written content, but also video production, graphics design, and other things. As I have already started video blogging and also since I am a part of another thriving community – Cycling community of Mumbai, I will be using all those skills to build engagement around cycling and promote it further as a smart and sustainable mode of transport.
This blog would continue to be a place for – as it's name suggests – life's essentials. I, my friends, other guest authors will continue writing and contributing to it. The focus of the blog would be the same – capturing the essence of life be it in books, travel, sports, education, science, philosophy, spirituality, writing & blogging, environment, society, and building a growing community around it.
As I would be diversifying into video content, this blog would naturally have a video channel (on YouTube). Though I am not sure about the frequency and other details. I would probably need a team for video production or I could even manage everything from creation to editing all by myself.
Also, as I am already creating content and doing some social media management for the Smart Commute Foundation's Cycle2Work Project, and my involvement in it would grow even further as time progress, the focus of the kind of content I produce (whether on my blog or Cycle2Work website or for any other publication) would be more towards cycling.
Note: I am excluding the two most indispensable and important things that have happened to me in the last year, as they would require a whole post or rather a series of posts. They are a central part of whoever I am, whatever I am doing and wherever I am headed. They will continue to be a part of my life until the end – they are that indispensable. 
-end-
---