Trees! Trees! Trees! What would we do without them? Trees are the evergreen gift of nature bestowed upon our planet. With the unstoppable rapid globalization and the mistreatment of the valuable assets of nature, here is something which may guide us as well as our future generations to take the necessary steps to safeguard our life givers. Today's article showcases 10 of the oldest trees in the world which have withstood the test of time and survived through ages. You will be amazed to know that most of these trees are thousands of years old.
Jomon Sugi Tree:
The Jomon Sugi Tree is the largest cedar tree in Japan. The meaning of Jomon-sugi in English is Old cedar. Discovered in 1996, the tree is located at the Yakushima World Heritage Area and is now a great tourist attraction. The age of the tree is estimated to be 2,200 years old, although many believe it could be much older than that. The Jomon Sugi Tree is 25 meters tall and its trunk circumference is 16.2m (53ft). There is no way that visitors could hug such an enormous tree trunk, so they have to be content with a view of this marvel from a platform at a distance of 15m from the tree.
The Sarv-e-Abarkooh Cypress Tree:
The Sarv-e-Abarkooh is a Cypress tree located in Abarkuh, Yazd, Iran. The tree is also known by the name of Zoroastrian Sarv. This 4000-year-old tree has become a national natural monument and is protected by the Cultural Heritage Organization of Iran. With a height of 25 metres and trunk circumference of 18 meters, the tree is a major tourist attraction. The people of Iran believe the tree to also have some religious significance. The Sarv-e-Abarkooh surely is the pride of all Iranians.
'Alerce' Patagonian Cypress Tree:
The Patagonian Cypress tree is believed to have been around for 35 million years with regards to the fossilized remains. One of these Cypress trees located in Alerce Andino NP, Chile is supposed to be 3,600 years old and is known by the name 'Alerce'. With its height up to 60 meters, it is considered as the largest tree species in South America. This tree can be considered as valuable as some relic as the local Chile people have even used its roof shingles as currency. Due to a large demand of timber in South America, there is a great threat to this particular tree species. Considering the value of the Alerce, it was declared a National Monument.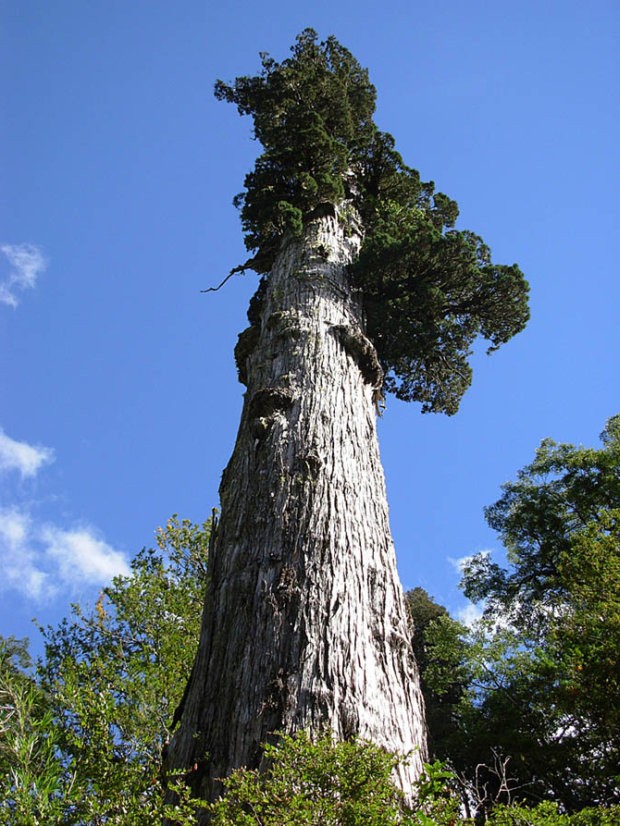 Jardine Juniper Tree:
Standing tall on a ridge of rocks on the northern slope of Logan Canyon, Utah, the Jardine Juniper gets its name after USAC alumnus and former U.S. Secretary of Agriculture William Marion Jardine. By the looks of it, the tree certainly reminds us of a tree straight up from some medieval age movie. Discovered on July 23, 1923 by Maurice Blood Linford, the tree was believed to be about 3,000 years old, but later after taking core samples it was determined to be 1,500 years old. The length of the tree is 12 meters (40ft) with a circumference of the trunk being 284 inches (720 cm).
Also Read: Lal Bagh Botanical Garden – A Man-Made Green Planet
'Patriarca de Floresta' Tree:
'Patriarca de Floresta' is another tree located in South America in the country of Brazil. This Brazilian tree is considered to be one of the biggest and is considered to be a sacred tree for the people of both Brazil and Venezuela. Considered to be a 3000-year-old tree, the 'Patriarca de Floresta' is certainly the oldest non-conifer tree in Brazil. Due to heavy deforestation in Brazil, Columbia and Venezuela, this species of trees is also threatened to become extinct.
'Chestnut Tree of 100 Horses':
This special chestnut tree has made its way to the Guinness Book of World Records for having the "greatest tree girth ever," at 190 feet in circumference. Located on Mount Etna in Sicily, the Chestnut Tree of Horses gets its name from a legend which says that a company of hundred knights took shelter under this massive tree after being caught in a severe thunderstorm. What makes this tree so special is its location. Mount Etna is one of the most active volcanoes in the world and to have survived for about 2,000 to 4,000 years is surely impressive.
The 'General Sherman' Giant Sequoia:
By wood-volume, the 'General Sherman' is known as the largest tree in the world. The trunk of the tree was measured at about 1487 cubic meters. The tree has a height of 83.8 metres (275ft) and a diameter of 7.7 metres (25ft). This single largest stem tree in the world got its name after American Civil War general, William Tecumseh Sherman. With an estimated age of 2,300 to 2,700 years, this Giant Sequoia is certainly one of the most long-lived trees in the world.
Methuselah Pine Tree:
This bristlecone pine tree was considered as the oldest living tree in the world with an age of 4846 years until 2013 when another tree of same species was found to be 5065 years old. Known for its height, this pine tree grows to a length of 2,900 and 3,000 m (9,500 and 9,800ft). The tree is located in the White Mountains of Inyo County in eastern California. In order to protect it from vandalism, the exact location of the tree is undisclosed.
Llangernyw Yew Tree:
This yew tree has made its way to be one of 50 Great British Trees by the UK Tree Council in 2002. The tree still stands on one of the Churchyards of North Wales and is considered to be between 4,000 to 5,000 years old. The girth of the Llangernyw Yew at ground level is 10.75m. However, the core part of the tree does not exist anymore which has made it fragmented, thus giving rise to several enormous branches.
Jaya Sri Maha Bodhi
A sacred fig tree found in Anuradhapura, Sri Lanka is supposed to be the southern branch of the Maha Bodhi Tree under which Buddha attained enlightenment. Planted on 288 BC, the tree earns its place right on top as the world's oldest tree with a known planting date. The age of the tree is known to be 2248 years. This ancient tree is visited by thousands of Buddhists and is considered as one of the most sacred relics.
This list of oldest trees in the world does not indicate finality as there may be many more trees yet to be discovered which are even older than these. We should consider ourselves lucky to have come across such trees not just because of their age but the symbolism of their existence.
The message is loud and clear from nature itself, that in order to survive, human species will have to be more thoughtful and compassionate before destroying what is surely a part of our ecology. What steps we take NOW to save our environment will decide the destiny of our future generations.
What better way to celebrate life than to have a dialogue with nature?
Save Trees, Save Life.
 -end-
---