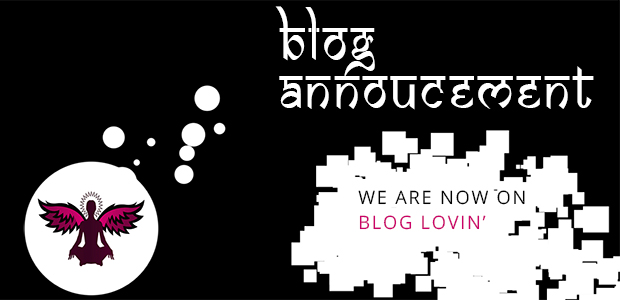 Hey, net flies. Before you buzz away from this little petal, do check out this link and follow us here if you are a blogger or blog lover or Blog Lovin'er.
So do this first -> Follow my blog with Bloglovin
This way you can stay connected with us through netspaces where no one wanders. Well, that is my snob view of this blog platform, not that I don't love it, I just haven't spent much time with it, so, at present, I can only hope that it isn't the Google Plus of blogs and instead is more of a medium-esque springboard of blogs and blogger/writer careers. 😉 
Blog Lovin' seemed lonely and unlovin probably cause I was the only one following my blog over there. In fact, maybe it's just my blog that is sucky and it has nothing to do with Blog Lovin' or Hatin' but everything to do with me and my team of back-enders, SEO fellas, techies, and more importantly, the main content drivers: the infamous-without-notoriety sluggish-flingish writers of the 21st century, who collectively haven't been paying any serious attention to this blog.
If you are a writer, blogger, creativity and passion seeker, entrepreneur or any living breathing net fly…then get aboard this blog.
But the good news of all is, I am going to set the new pace for this blog, or rather my whole life in fact. It has been a long build up of events that have led me up to this point. So it's not something that I have decided whimsically- to do all of a sudden.
And hence, hopefully, or instead, let's say, definitely, what follows this, isn't going to fall flat, maybe give or take here and there, it could waver a little below the image I paint here in these statements, but we are going to build upon each step and grow out of the slug.gish.fest.
So as I (and we together) progress and move forward from this point on, with regards to writing, blogging, lifestyle makeovers, habit inducing, productivity building, healthy living, illusory crisis confronting, practices, you are going to see all of it here (as it is, unfiltered, without hashtags) and more (based on user suggestions).
So, as my bio would now read, 'If you are a writer, blogger, creativity and passion seeker, entrepreneur or any living breathing net fly trying to get your mind around stuckedness and procrastination then get aboard this blog.'
And if this doesn't sound convincing, then you should definitely subscribe and follow the blog through at least newsletters or social networks. You could also write along with us, tag and share, have some linky partys, and get some insights from what we are doing here.
Let's #hogblog
Until then, tada pa pa pa I AM *BlogLovin'* it.
-end-
---